T-BOTA High Pressure expansion of Portland Digital Display Cement Autoclave
Product Description
TBT steam autoclave pressure cement stability (digital display type)
I. Introduction
It is widely used in cement production ,building materials research institutes, universities and construction quality inspection departments for the determination of cement MgO (magnesium oxide) on the cement stability of the adverse effects of special equipment.
The performance of cement and its test showed that the content of MgO in cement clinker was mainly brought into limestone raw material, and MgO was mostly granite when the clinker was burned. I
ts structure is dense (commonly known as dead burning state), and wrapped in the middle of clinker minerals, and water reaction speed is very slow.
It is generally believed that after 10 to 20 years or more, hydration is continued to produce Mg (OH) 2, the solid volume is increased by 2.48 times, and the local volume expansion has a great destructive stress in the hardened cement.
With boiling cake 100 ℃ boiling 3h can not make a lot of hydration of MgO, so boiling method can not test the stability of cement caused by magnesite, high temperature and high pressure conditions can accelerate the clinker in the magnesite hydration, so clinker MgO The poor stability caused by the use of pressure to test the method.
II. Specification
1 volume of kettle body: 8L
2 kettle body diameter: Φ160mm
3 maximum working pressure: 2.5Mpa (can be manually adjusted) controllable temperature rise speed
4 standard boost time (0-2 ± 0.05Mpa; room temperature ~ 215.7 ± 1.3 ℃): ≈ 45min
5 safety valve opening pressure: 3.0Mpa
6 pressure automatic control of the fluctuation range: higher than  0.05Mpa
7 Holding time setting range: 1 ~ 99h
8 Rated voltage: 220V
9 Rated power: 1200 +600W
10 Dimensions: 1000 * 660 * 1320mm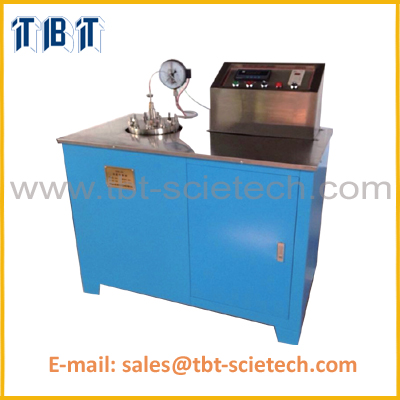 ---Carton box, wooden case or specified package
1) Inner package: dust-proof plastic bag
2) Outer package: standard export wooden case with pallet
3) Suitable for international transport through shipping by sea, by air or any other delivery method.
(Note: we can provide special packages according to buyer's requirements.)
Our Advantages:
You can always get our in-time reply via email or telephone or instant messenger;
You can always get best product with excellent quality and competitive price;
You can always get goods news for on-time or advanced shipment at your desire;
You can always enjoy our considerable & full-side after-sales service;
You can always feel very convenient since we can help you sourcing and ship products from different factories via one shipment, which to a large extent save your time and cost;
You can always easily make the payment via West Union, Paypal, T/T for small value order;
Our Target
To be the largest and most professional supplier for products in our business scope through our efforts!
To be the best friend and solid cooperator of our customers!
To be the first supplier at customer's first thought when they need to order!
We warmly welcome your visit, E-Mail and call!
Tel: 86-25-84721577
Shipping method
---Express: UPS, FEDEX, DHL, TNT, EMS, etc
---Air shipping:  Please choose your convenient shipping method according your detail requirement.
---Sea shipping: large quantity order
---Normally, it will take around 3--5days from China to destination country via air.
Payment
---T/T, Western Union, Paypal, or negotiable, ect.
We are waiting for your enquiry, please "Click Here" and send enquiry to us, thank you! It is first step towards successful working partnership with you!
Zara Zheng
Nanjing T-Bota Scietech Instruments and Equipment Co., Ltd.
SKYPE: kallyem
Whatsapp: 0086 18951741065 
Product Categories : Cement Testing Machine